Sometimes your WiFi range just doesn't cut it. Maybe your house is so big that, even if you have one of the best wireless routers, there are areas that your connection is slow or non-existent which can be seriously frustrating. Or maybe you want to be able to access the internet from outside on those summer afternoons. If that's the case, we've got just the Buyers Guide for you. These are the best WiFi extenders available on Amazon to meet your range extending needs.
 
Best WiFi Extenders of 2022
Our team has looked at the Best WiFi Extenders and compiled these 8 reviews and customer ratings from Amazon.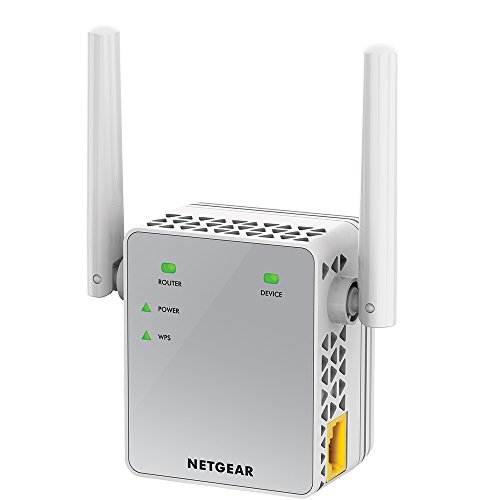 Plugging directly into a wall socket, the dual-band NETGEAR EX3700 Wi-Fi extender is compatible with Wireless-AC technology. This Wi-Fi extender offers throughput of up to 750Mbps. It has two external antennas for enhanced Wi-Fi coverage.
 

| NETGEAR AC750 EX3700-100NAS – PROS | NETGEAR AC750 EX3700-100NAS – CONS |
| --- | --- |
| • Quick and Easy Setup | • Slows down internet speed. |
| • Security Protected Access. | • Range on 5GHz band is short. |
 Amazon Customer Reviews:
27,148
Average Review Rating:
3.9 out of 5 Stars
Check Price >
Another one from NETGEAR, the EX6200 is a powerful dual-band extender which can double as a second Wi-Fi access point. The EX6200 offers up to 1200Mbps and features five Gigabit Ethernet ports. This allows the EX6200 to be used as a wired access point. It has a dual core processor, high-power amplifiers and two high-gain 5dBi antennas.
 

| NETGEAR WiFi AC1200 EX6200 – PROS | NETGEAR WiFi AC1200 EX6200 – CONS |
| --- | --- |
| • 1200Mbps. | • Complicated Setup Process. |
| • USB ports to connect drives and printers. | • Large and aggressive design. |
 Amazon Customer Reviews:
1,348
Average Review Rating:
3.7 out of 5 Stars
Check Price >
The Linksys RE6500 offers up to 1200Mbps of throughput. Linksys claim that it can extend your wireless coverage by up to 10,000 square feet. It includes four Gigabit Ethernet ports which allows the device to be used as a wired access point. The RE6500 features an audio jack which allows you to connect a speaker or stereo system wirelessly over your network. This extender also includes a 128-bit encryption and WPS (Wi-Fi Protected Setup) function which allows you to keep your network private.
 

| Linksys AC1200 RE6500HG-FFP – PROS | Linksys AC1200 RE6500HG-FFP – CONS |
| --- | --- |
| • Ability to keep your network private. | • Complicated set up process. |
| • 10,000 square feet coverage. | • Slows down internet speed. |
 Amazon Customer Reviews:
236
Average Review Rating:
3.5 out of 5 Stars
Check Price >
The dual-band D-Link DAP-1520 is by far the cheapest on our list. It plugs into a wall socket and extends your router's coverage at the push of a button. It offers throughput of up to 750Mbps. You can also save and restore the device's settings which is perfect when dealing with power outages, it also allows you to monitor the traffic on your network.
 

| D-Link DAP-1520 IEEE 802.11n – PROS | D-Link DAP-1520 IEEE 802.11n – CONS |
| --- | --- |
| • Cheap. | • Only 750Mbps. |
| • Easy to setup. | • No ethernet port. |
 Amazon Customer Reviews:
547
Average Review Rating:
3.5 out of 5 Stars
Check Price >
The D-Link DAP-1650 offers impressive speeds over a large coverage area. It offers dual-band Wireless-AC compatibility and throughput of up to 1200Mbps. The four Gigabit Ethernet ports, simple setup process and the media server options that allow you to share music, video and other files throughout your network are all impressive features of the DAP-1650. It has no external antennas which gives it a tidier look.
 

D-Link AC1200 DAP-1650 – PROS
D-Link AC1200 DAP-1650 – CONS
• Slower connection – receives and transmits on
same band.
• USB 2.0 not 3.0.
• No external antennas.
• Range on 2.4GHz is middling.
 Amazon Customer Reviews:
705
Average Review Rating:
3.6 out of 5 Stars
Check Price >
The dual-band RE305 is one of the best extenders for long range. It has two bands that run at 2.4GHz and 5GHz which offer up to 300Mbps and 867Mbps respectively, as well as a Fast Ethernet port that lets you connect to a wired device. There are three LED lights on the front to indicate whether it is properly connected.
 

| TP-Link AC1200 RE305 – PROS | TP-Link AC1200 RE305 -CONS |
| --- | --- |
| • Easy Setup. | • Not the best for short range. |
| • Connection status clearly displayed. | • No USB port. |
 Amazon Customer Reviews:
645
Average Review Rating:
3.5 out of 5 Stars
Check Price >
The NETGEAR Nighthawk X4 AC2200 WiFi Range Extender has the ability to communicate with multiple devices simultaneously with its Multi-User Multiple Input, Multiple Output technology. Similar to all the every other entry on this list, it's a dual-band extender. It can reach speeds of up to 450Mbps on the 2.4GHz band and a huge 1,733Mbps on the 5GHz band. The device has an internal antenna array instead of an internal one.
 

| NETGEAR AC2200 EX7300 – PROS | NETGEAR AC2200 EX7300 – CONS |
| --- | --- |
| • Up to 1,733Mbps. | • Narrows bandwidth of original connection. |
| • Quick and easy setup. | • Slower internet at night. |
 Amazon Customer Reviews:
872
Average Review Rating:
4.1 out of 5 Stars
Check Price >
Google WiFi acts as a replacement for your existing router and has three satellites. Each satellite covers 1.500 square feet, covering 4,500 square feet overall. They satellites lack USB ports whichi means you can't connect peripherals. Each satellite has a quad-core Arm CPU, 512MB of RAM and 4GB of eMMC flash memory. It also features AC1200 (2×2) 802.11ac and 802.11s (mesh) circuitry and a Bluetooth radio.
 

| Google Wifi – PROS | Google Wifi – CONS |
| --- | --- |
| • 4,500 square feet blanketed coverage. | • No parental controls. |
| • Simple and beautiful design. | • No USB ports. |
 Amazon Customer Reviews:
4,188
Average Review Rating:
4.5 out of 5 Stars
Check Price >
Best WiFi Extender Review – Buyers Guide and FAQs
As WiFi Extenders are not exactly something that every household would have, it's understandable if you feel a little lost about what these devices actually do, or how they do it. With that in mind, our buyers guide below outlines the things you should be aware of when purchasing a new WiFi Extender.
What is a WiFi Extender?
In short, what a Wi-Fi Extender (or wireless booster) does is pick up your router's signal, and rebroadcast it. The usefulness here is that you are then enabled to connect to your router from a much greater distance than you would be able to without the extender.
Things to Take into Account When Selecting a WiFi Extender
Below are just a few things to ponder on when browsing the WiFi Extender market. We've taken out all of the unnecessary chunks of text, and distilled down the information to the basics of what you need to keep in mind before committing to a purchase. We strongly recommend you give it a look before continuing with your search.
Price-tag: Not that we need to tell you; but money doesn't grow on trees. If there's one thing that all of us have in common, it's that we have yet to discover the key to unlimited funding. Therefore, a steep price-tag is always going to sting if we don't have the cash to support it. However, there's no need to worry, because there are plenty of affordable options on the market for WiFi extenders. We strongly recommend investing in a WiFi extender, especially if areas of your home struggle with connectivity barriers. That being said, don't blow a hole in your bank account, because it's unnecessary. In fact, we've gone to the liberty of including a few affordable WiFi extenders in our list above.
Aesthetic Value: We'll happily throw our hands up and admit that aesthetics are by far not the most important aspect of a WiFi extender. However, with so many attractive options on the market, do you really want a big ugly WiFi extender taking up valuable space? Some plug into the wall socket, and they're ok, although they're a bit bulky. On the bright side, these extenders are quite out of the way, however they are quite bulky. The larger extenders usually look somewhat like independent routers, and typically have more features. They also look much nicer (usually). The downside? They're more expensive most of the time.
WiFi Compatibility: In 1997, the first WiFi Standard (Protocol) was released at IEEE 802.11. This is now obsolete. Since then there have been numerous WiFi standards, with the addition of A,B,G,N, and AC. To ensure that your extender is compatible with your router, you must check what 'kind' of WiFi your router supports, and see if your extender will actually work with it. If your router doesn't support N or later, you may as well replace your router, rather than invest in an extender. Furthermore, avoid investing in an extender that supports speeds that your router cannot reach, because your extender will only rebroadcast the signal it receives (if the original signal is weak, the boosted signal will remain weak).
Do I need a dual-band or single-band extender?
Originally, routers featured a single-band configuration, broadcasting at 2.4-GHz frequencies. Nowadays, the standard is dual-band, which broadcasts at both 2.4-GHz and 5GHz frequencies. Further still, there are tri-band (two 5-GHz bands, one 2.4-GHz band) routers, although you likely won't need this kind of coverage in your home. If you want the best coverage out of your extender, opt for a dual-band extender capable of rebroadcasting both frequencies. This would be ideal. However, if you're running on a tight budget, a single band extender will enhance your single-band coverage, which isn't as fast, but hey, it's better than nothing, and it's cheaper.
What kind of Security Standards does the Extender Support?
Unlike how many bands your extender supports, we urge you not to compromise on security standards. The latest security standard is WPA2-PSK (AES). This encryption system stops other people from connecting to your network without the password, which is important. Your extender should support this standard of security, and if your router doesn't already, you really should consider binning it for a new one.
How do I Connect my WiFi Extender to my Router?
There are generally two ways that extenders are connected back to the router. One way is that you would enter your routers network name (or the SSID) and password. This information is found somewhere on your router, usually on a sticker underneath or at the back. The other method, which we personally prefer, is connection through WPS (WiFi Protected Setup). This method involves pressing a button on your router, and a button on the wireless extender simultaneously. From then on, they'll reconnect automatically. Pretty neat, if we say so ourselves.
Summary
To wrap up our review of the best WiFi extenders India, we leave you with a couple of tips on how to browse quickly and efficiently, and minimise the risk of disappointment. it's important to calculate a realistic budget, a price range within which you are comfortable spending. The information in our buyers guide will steer you away from bad investments, like buying an extender incompatible with your WiFi, or without modern security standards. With your budget calculated, and the relevant information gathered, you'll be able to return to our product reviews and make an informed choice about the best product for your household.