As you may have read from reading other Shopify reviews online – Shopify is not only a market-leading all in one e-commerce solution. It is the most user-friendly platform and anyone can use it. This has always been Shopify's mission from the beginning. The goal was always to devise a no-fuss solution to help business owners setting up an e-commerce business.
Shopify Review August 2022

Shopify has few peers in e-commerce development, so if e-commerce is your proprity, Shopify is the way to go. And here's how it shapes up across our four criteria of price, ease of use, support and features.
[wp-compear id="20845″]

Scoring was based on a thorough exploration of every significant aspect of the platform. The research was also informed by frequently asked questions (FAQs) from business owners.

Our table below highlights Shopify FAQs. Click on the links for guidance on how to use Shopify and on whether it's suitable for you. You'll also be able to compare pricing and functionality with other platforms.

[wp-compear id="20848″]
1. Shopify Reviews: What is Shopify?
Shopify is an online e-commerce platform that helps you set up an online store for selling goods & services. You can use the Shopify interface to control your online store's appearance; accept online and credit card payments; and track orders and respond to them.
Getting started is a dream—you only need to sign up (and commit to the monthly payment plan). Like WordPress for websites, Shopify is fully integrated. There are over 100 fully-optimised, high quality, online store designs, with as many or few features as you need.
One of the big bonus points of Shopify is that you don't have to worry about web hosting. It's a single-point process, which means there's no need for an external hosting service. Also, Shopify's server is optimised specifically for e-commerce.
In general terms, its user-friendly multi-purpose nature is ideal for e-commerce beginners. Startup businesses who are budget-conscious will find it relatively affordable and ideal for their purposes. It's also easy to integrate with your existing operations. And, for small businesses in growth, it enables your e-commerce capacity to grow with you, regardless of its size.


Image Source: Shopify
2. Shopify Reviews: How much does Shopify cost?
The platform has a series of monthly pricing plans, from Lite (with no online store) and Basic (selling with your online store, for $29), up to Unlimited, which unlocks all features for $179 per month. 

There's a 14-day free trial, so you can review all the features, and cancel it at any time. It's a great trial giving you a chance to get to know the platform before committing to it.
However, to start off, we recommend the $29 monthly Basic plan. There's a decent range of features, along with the payments and technical aspects of the online store. This package gives you not just the online store module, but also the Point of Sale system; modules allowing you to sell directly on Facebook & Pinterest; a Shopify Buy button, which enables you to add a custom button to any site, not just your Shopify one. One word of caution though—if you are not using Shopify Payments, Shopify will charge a transaction fee on every order.


Image Source: Shopify
3. Shopify Reviews: How easy is Shopify to use?
Extremely. It gives you access to a working online store structure. There is nothing piecemeal, because everything is integrated. You don't need any visual design skills—just a solid sense of how you want your store to appear. The platform also handles online payments, as well as your product / service catalogue.

If you lack design and development skills, but want to set up an e-commerce store, Shopify is for you!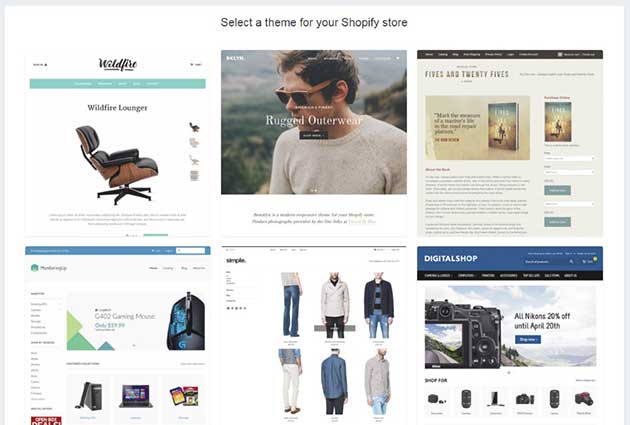 Image Source: Shopify
4. Shopify Reviews: How does Shopify work?
Entry into the Shopify world couldn't be simpler. It's a standard wizard-guided process. The platform seeks details about what you plan to sell, and then prompts you to select an online store design.

There are more than 100 slick, modern themes, and they're optimised for viewing and use on desktop, mobile and tablets. Every template is also customisable. You can select your brand & colours, add a logo, and set the appearance of your store homepage.
Editing text on your Store's pages is very easy via the Pages section of the Shopify dashboard. There is nothing in there that would frighten anyone who has even the most basic experience of Microsoft World.

Managing your products is as easy as editing the textual content of the Pages. By configuring the general Settings of your store, you will be able to establish every piece of relevant information about your store, such as its name, address, etc.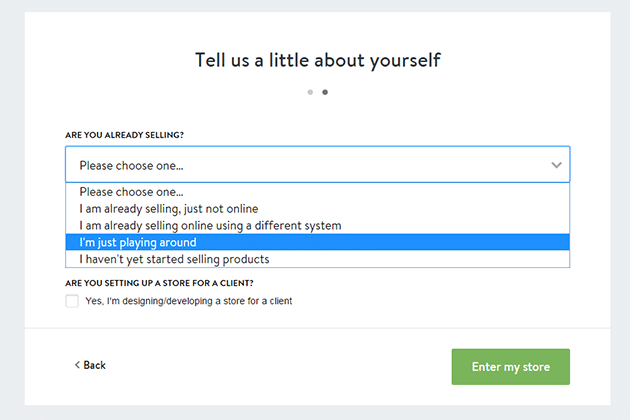 Image Source: Shopify
5. Shopify Reviews: How good is Shopify at handling Online Payments?
The good news is that it's all very much determined by you. You'll be able to select from a range of payment options, including credit cards, bank transfers or cash on delivery. Shopify and PayPal are integrated, so your store has a PayPal Express Checkout account.
The easiest way to accept payments is Shopify Payments. This is integrated (so no third party gateways), and enables you to manage every aspect of your online business.

Shopify Payments can handle all major cards automatically, and allows you to select a card rate, and change it, when required. The dashboard will also enable you to track the pending payout balance and payout schedule, view what you will receive and be charged in payment fees, recover lost sales by means of chargeback responses that are compiled by Shopify for particular orders.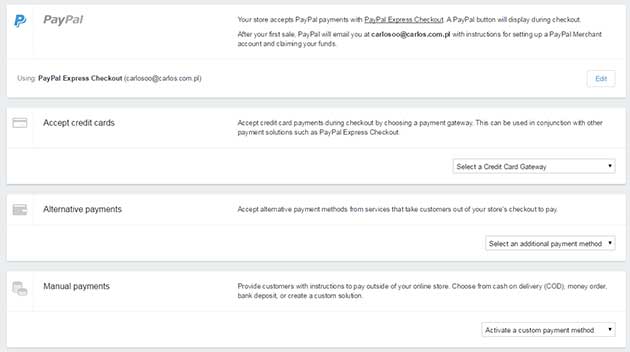 IMAGE SOURCE: SHOPIFY
6. Shopify Reviews: What other options are available?
The Settings/Checkout tabs on the dashboard opens up other options for users. You'll be able to use them to customize user account options; amounts of customer data required during a sale; and order processing, language and refund policies. Users can use these tabs to incorporate shipping costs; to calculate necessary tax-related data; and determine how you store communicates with customers, and how customers communicate with you.
7. Shopify Reviews: Adding & Editing Products in Shopify
The Products option allows you to set everything related to the products or services in your e-commerce store.

You can add products via editor windows, where you set the title and description of the item; drag and drop images; set pricing; and select how and when the product will be visible to customers.


8. Shopify Reviews: Showcasing products using Shopify
The homepage of your online store is a fantastic shop window for showcasing your key products and services. Customisation (which you use to select your store's theme) makes this process easy.

When you click this option, you'll be able to select individual products, or an entire product range. Users can also realign product blocks on the homepage, and use alternatives to text displayed in the main listings.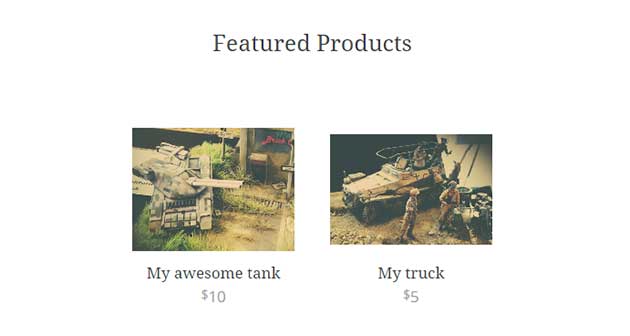 IMAGE SOURCE: SHOPIFY
9. Shopify Reviews: Tracking your Progress on Shopify
The 'Reports' section allows you to access every single piece of data needed to chart your online store's progress. You can browse your business data by product title, payment method or customer traffic, to name just three possibilities.
10. Shopify Reviews: Additional functionality on Shopify
After a while, you may wish to enhance or 'fill out' your online store. Shopify make it easy to create a blog, for instance, and add some regular posts of content.
It's possible also to add new pages and edit existing ones. And it's very easy to tweak your navigation and choose what appears on header & footer menus.
11. Shopify Reviews: So, is Shopify the best option for e-commerce?
As our review table above makes clear, it is certainly an excellent start point. There are other platforms such as Magento, but the answer to this question depends on the user's requirements.

The Shopify platform is ideal for small businesses with limited resources, and no e-commerce technical expertise.

12. Shopify Reviews: Does Shopify have the best audience research?
The real question is, how effective is the marketing of your website. Shopify an e-commerce management system for selling goods online. E-commerce is not a content management system, such as a blog or a website. However, plugins are available for CMSs such as WordPress, so you'll be able to manage it within the CMS.
13. Shopify Reviews: What advantage does Shopify have over free e-commerce platforms?
If you don't have any e-commerce experience, then Shopify is perfect for you. Otherwise you'll need expertise in everything that Shopify handles for you, including domain names, web hosting, and online security.
14. Shopify Reviews: Conclusion
Shopify is one of the most user-friendly solutions, particularly for users lacking significant e-commerce expertise. Relatively affordable, it has full 24/7 support via telephone, e-chat or email. And also, it delivers all the features you need to get into e-commerce.
To finish on the possible downsides of Shopify, they are few but significant. The fact that it involves a monthly fee as well as individual transaction fees for stores not operating Shopify Payments. This can be costly, especially if you're selling in high numbers.
Another negative is that its unique code is inaccessible to all but an expert in proprietary coding. Therefore, if you need to explore the back-end, then you'll have extra maintenance and management costs.
But overall, our 9.8/10 score speaks for itself!
You can try Shopify by starting their 14 day FREE  – Click Here