When you're looking for the best routers for gaming, it's difficult to recommend a single item as 'best', because this depends on needs & requirements. Whether your priority with the best wireless routers for gaming is for speed, range or user-friendliness, performance in any of these areas is decisive.
What is certain is that the best routers for gaming are made by leading and some of the most widely recognised tech companies in the world, including Google, Norton, Netgear and Asus Republic of Gamers (ROG). Still, where do you start in your search for the gaming router that will best suit your purposes?
Best Routers for Gaming of 2022
To simplify matters for shoppers, our team has researched the best gaming routers on the market in 2021, assessing their performance, efficiency, value for money and user-friendliness. If you need a quality gaming router, you are bound to find something for your purposes in this buyers guide and reviews.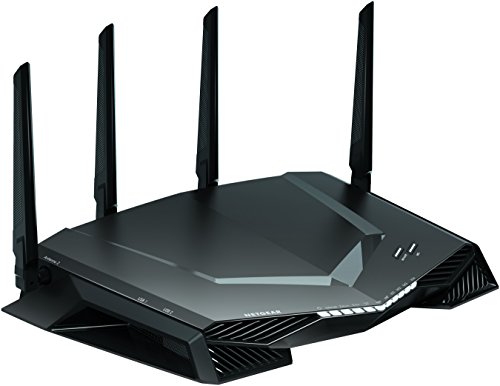 With an impressive 2.6Gbps of wireless speed, the NETGEAR Nighthawk Pro Gaming WiFi Router is our choice for the best all-round gaming router. The router's speed can be divided between multiple devices to minimise lag.  As an added benefit, this router is also great at prioritising gaming. It's clear that NETGEAR had optimum connectivity in mind when they designed this product—the Geo-filter monitors local connections, set by the user, in order to avoid any stalls. Finally, a customisable dashboard displays all necessary information including network bandwidth, and security settings.
| NETGEAR Nighthawk Pro Gaming WiFi Router – PROS | NETGEAR Nighthawk Pro Gaming WiFi Router – CONS |
| --- | --- |
| • Router is reasonably powerful in its own right. | • Quite expensive compared to some others on our list. |
| • Decent area of coverage for gaming convenience. | • Random connection drops can occur. |
Amazon Customer Reviews: 322
Average Review Rating: 4.6 out of 5 Stars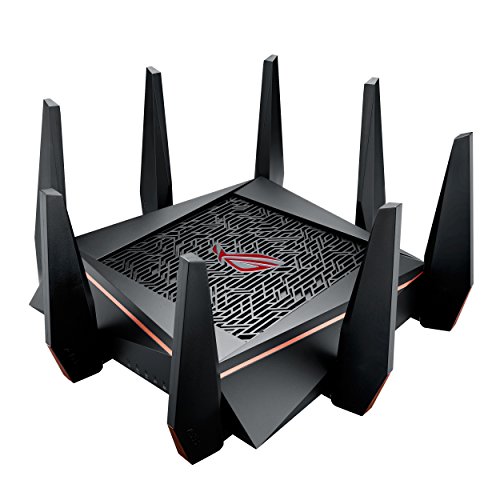 As our runner-up to the best all-round gaming router, we have the ASUS ROG AC5300 Tri-Band router. Boasting a 1.4 GHz dual-core processor and 512MB of memory, this router is ideal for gaming with it's built-in game acceleration feature, which effectively prioritises routes for game servers. This means minimal lag, so your connection won't cut out at the wrong moment in a match.
Additionally, featuring AiProtection, this product is adequately fortified against various malicious websites and devices for your added peace of mind.
| ASUS ROG AC5300 Tri-Band – PROS | ASUS ROG AC5300 Tri-Band – CONS |
| --- | --- |
| • Comes with a number of convenient features such as built-in security. | • Coverage area would be ideal if it stretched a bit further. |
| • Very fast connecting speeds for more a more enjoyable experience. | • Exceptionally high price-tag, definitely a premium product. |
Amazon Customer Reviews: 177
Average Review Rating: 3.7 out of 5 Stars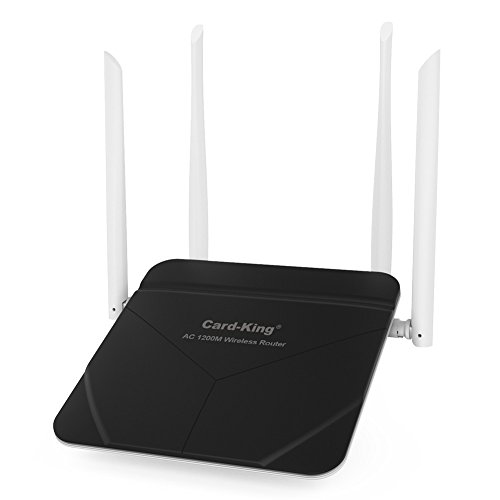 Our pick for the best budget gaming router is the Card-King WiFi Router. Delivering essentially the bare necessities for high quality gaming, this router is not going to break the bank for you to enjoy your hobby. Delivering 1,200 Mbps of speed, this router is not the fastest on our list, but you may be prepared to accept lower speeds in return for the attractive price tag. With its four LAN ports, set up and maintenance of the Card-King WiFi Router is pretty simple, and with its two-year limited warranty and 24/7 tech support, the manufacturer definitely has your back if anything should go wrong.
| Card-King WiFi Router – PROS | Card-King WiFi Router – CONS |
| --- | --- |
| • Highly affordable price-tag compared to its predecessors. | • Compared to other routers on our list, this one isn't very fast. |
| • Ideal for those with a lower maximum internet speed (below 100 Mbs). | • Not as aesthetically appealing as some other routers. |
Amazon Customer Reviews: n/a
Average Review Rating: n/a
If its sheer speed you're after, we recommend the Nighthawk X1- AD7200, which boasts combined speeds of up to 7.2Gbps. Utilising 802.11ac and 802.11ad for an enhanced Wi-Fi experience, users can enjoy incredibly quick downloads, alongside smooth streaming in 4K. A feature we particularly liked was the PLEX software, which allows for management of media, and is viewable on allowed devices. And should your ISP provide it, the Nighthawk X10 will also deliver a 10-gigabit fiber connection, which is what you certainly should be working towards if you intend using your router for intense gaming purposes.
| NETGEAR Nighthawk X10 AD7200 – PROS | NETGEAR Nighthawk X10 AD7200 – CONS |
| --- | --- |
| • Useful guest network function that allows your selected guests to use Wi-Fi without a password. | • Very expensive price-tag, not one for those working with a budget. |
| • Fast connection for a smoother experience. | • Wi-Fi range could be a little better for the elevated price. |
Amazon Customer Reviews: 21,400
Average Review Rating: 4.2 out of 5 Stars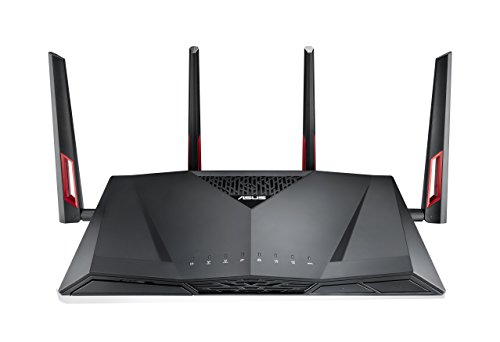 Our pick for the best router with WiFi for LAN is the ASUS AC3100. With 8GB Ethernet LAN ports, this router is great if you want to invite a number of friends to connect their computers via wire for a collective gaming session you won't forget, with 2 Gbps transfer speeds. Alternatively, should they choose the wireless route, which delivers 1.8 Gbps and has a coverage range of up to 5,000 square feet. With a 1.4 GHz dual-core processor, this router has 512MB of memory while the ASUS AiMesh technology connects several devices throughout your home for speed improvement. Another feature is WTFast Gamers Private Network, which lowers ping. Finally, with its 1024-QAM technology, the ASUS AC3100 can deliver a 5 GHz transfer rate of up to 2100Mbps.
| ASUS AC3100 – PROS | ASUS AC3100 – CONS |
| --- | --- |
| • Excellent connection speed, which is great for seamless gaming. | • User interface can run into some issues, e.g. not recognising devices. |
| • Powerful dual-core processor for handling more devices. | • Quite expensive, considering the features that it comes with. |
Amazon Customer Reviews: 1,661
Average Review Rating: 335 out of 5 Stars
NETGEAR gets the nod for the best gaming router with fastest wired speed, for its Nighthawk Pro Gaming router. Its only major disadvantage is that it doesn't have Wi-Fi, but hardcore gamers will be interested in its speeds of up to 20Gbps. Through its 10 LAN ports, the Nighthawk Pro Gaming L2 is perfect for LAN parties etc. without being leeched off by neighbouring Wi-FI capable devices. As a nice finishing touch, this product features full customizable RGB LED bulbs, one for each port.
| NETGEAR Nighthawk Pro Gaming – PROS | NETGEAR Nighthawk Pro Gaming – CONS |
| --- | --- |
| • Sleek and modern aesthetic looks great with any gaming rig. | • Quite expensive, although not the most pricey on our list. |
| • Able to achieve very high speeds of connectivity. | • May require frequent restarts in some cases. |
Amazon Customer Reviews: 2,663
Average Review Rating: 4.6 out of 5 Stars
The Google Wi-Fi Router OnHub AC1900 is capable of WiFi speeds of up to 1,900 Mbps. It's an attractive and sleek router with a coverage range of up to 2,5000 square feet. With 13 internal antennas, this router can connect over 100 products, eliminating Wi-Fi dead-zones in your home. Delivering 2.5 Ghz and 5 Ghz dual band connectivity, this router can provide coverage to almost every device, with its dedicated 2.4 Ghz Bluetooth and Zigbee antenna. And the Google On app allows for adjustment of Wi-Fi speeds and connections. This unit is supported by a wealth of online resources, such as FAQs, and 24-hour customer support services. The Google OnHub AC1900 also automatically updates with security measures to protect your devices from malicious softwares.
| Google WiFi & TP-Link OnHub AC1900 – PROS | Google WiFi & TP-Link OnHub AC1900 – CONS |
| --- | --- |
| • Very easy to set up, simply plug-in and go, with very little set-up. | • Can have issues like data hanging with iOS devices. |
| • Has a decent range of coverage for the price, could be slightly better though. | • Cannot be accessed from a PC, only a device like a smartphone or tablet. |
Amazon Customer Reviews: 1,308
Average Review Rating: 4.3 out of 5 Stars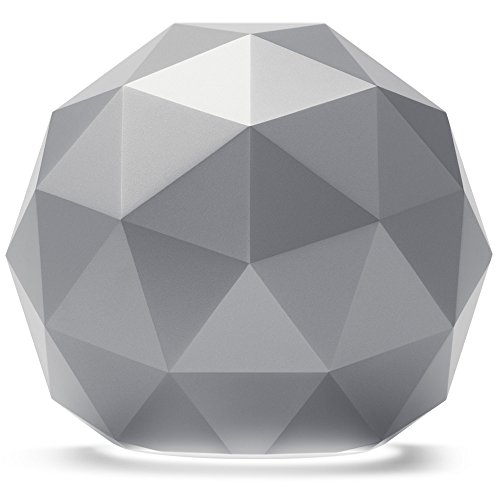 Last but not least, we come to the Norton Core Secure Wi-Fi Router, our pick for the best design on our list. Built with a multi-layer protection, which uses deep packet connections. Additionally, this router also comes equipped with complimentary Norton Core Security Plus Software, which is one our picks for the best security softwares available out there. Capable of a data transfer rate of 2,6000Mbps for 4K streaming and powerful connecting capabilities, this router uses a 1.7GHz dual processor, and boasts 1GB of RAM, and two USB 3.0 ports alongside four-gigabit ethernet ports to allow the user to directly connect their devices.
| Norton Core Secure – PROS | Norton Core Secure – CONS |
| --- | --- |
| • Easy set-up and considerably fast connectivity supporting multiple devices. | • Dependent on Norton Servers, if they go down, so does your connection. |
| • Aesthetically pleasing, very stylised encasement – not your traditional router. | • Can suffer a significant drop in download speed in some cases. |
Amazon Customer Reviews: 271
Average Review Rating: 4.1 out of 5 Stars
Best Routers for Gaming – Buyers Guide
If this is your first time browsing the router market, we understand it can get a little bit confusing. With that in mind, we've prepared a buyers guide for you to skim through. with a little more information on the various features and technologies behind your router, you should be able to find the ideal router for you much more quickly, saving you both time and energy.
Key Factors for Consideration when Shopping for a Router
Protocol: Don't worry too much about protocol. Many people freak out when they see the numbers referencing protocols (like 802.11 n, for example). Protocols are commonly referred to as Wi-Fi standards, and while they may look scary to understand, they are just another specification regarding the capabilities of your router to provide you with high quality Wi-Fi.
Bands: Originally, routers functioned off a single band. However, as time has gone on, traffic has increased, and so this demand fed into the need for a dual band system to be created. This caters to both the 5-GHz, and 2.4-GHz frequencies, both of which varied in both bandwidth and range. Additionally, there are tri-band routers available, however you most likely won't need this type of router in your home.
Antenna: The bigger the antenna the better. We know it seems a little bit primitive, but it is true that the bigger the antennas on your router, and the more of them there are, the better. In the past, your router's antennas would evenly distribute signal out in all directions. However, the best routers nowadays will have several antennas that will pump out signals in different directions. The result is better range and connectivity. Additionally, adjustable antennas allow you to push the signal in a certain direction. This can be used to illuminate Wi-Fi black-spots in the home.
Ports: While we wouldn't be stressing about ports, it is still important that your router has a few. This is so you have the option to connect your device to the router via an ethernet cable. This can be useful to relieve stress on the network if you have guests over.
Beamforming
Beamforming is a useful feature that allows you to direct the full strength of your router in a single direction, which can be useful for combatting connectivity dead zones in your home.
MU-MIMO
MU-MIMO stands for "multi-user, multiple input, multiple output". This is quite similar to beamforming, except that MU-MIMO allows the user to direct the power of their router to prioritise specific devices. This is handy if you have a non-portable device far from the router that requires internet connection, like a gaming console.
Quality of Service
The quality of service feature will enable the user to send additional bandwidth to key applications, with the left-overs being shared amongst other applications. This prioritising capability is quite useful for gaming, and so we would advise gamers out there to look out for this feature.
Guest Networks / Parental Controls
Guest Networks allow the user to set up independent networks for visitors. These networks can have their own passwords and permissions, and won't affect your personal devices. Similarly, parental controls allow kids to access a restricted network tailored by you, to ensure they don't wander into the wrong parts of the internet.
Summary
To sum up our review of the best gaming routers, we recommend that potential buyers peruse our buyers guide and digest the information, before returning to our product reviews at the top of this pest. With a new perspective on the router market, you'll be able to narrow down the search, disqualifying unsuitable products until you find the perfect one for your household. Best of luck!