Whether you're commuting for business or on vacation, it's most likely that you won't be able to go long without going online, whether for news, communication with your workplace, or for simple entertainment. And for the kind of tech that delivers reliable, swift connection, you'll need to consider the top travel wireless routers.
Essentially a pocket sized variant of the best wireless routers, a travel router will make it simple to connect your laptop, tablet, smartphone and other mobile devices to the Internet, whether you are mobile or in a location where wireless internet is less than reliable.
Travel wireless routers are also safe and secure, and have built-in storage, as well as, in some cases, battery power to keep your device topped up when the 'juice' is flagging.
 
Top Travel Wireless Routers of 2022
If you're looking for a router that is reliable enough to take with you on vacation or otherwise on the road, our reviewers have compiled this buyers guide, with reviews of each product, which tells you everything you need to know about shopping for the top travel wireless routers of 2022.
 
The HooToo TripMate Titan doubles as a 10,800mAh power bank. The router converts a wired network to a wireless one through its Ethernet port. This device weighs just 9 ounces and features a USB-A and micro-USB inputs along with a category 5 Ethernet port. Up to five devices can be connected to this router simultaneously.
 

| HooToo Wireless Travel Router – PROS | HooToo Wireless Travel Router – CONS |
| --- | --- |
| • Great file sharing capabilities. | • Inconsistent charging across devices. |
| • Doubles as a power bank. | • Max speed 150Mbps. |
 Amazon Customer Reviews:
853
Average Review Rating:
4.3 out of 5 Stars
Check Price >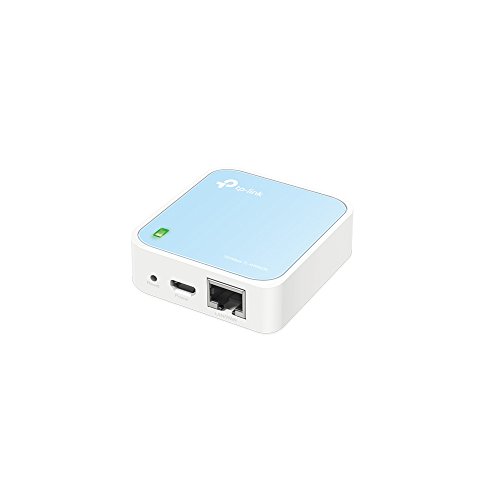 TP-Link's N300 can reach speeds of up to 300Mbps and its 2.4GHz band connection provides buffer-free video streaming and online gaming over a wide coverage area. The N300 can also function as a router, repeater, client, AP and hotspot. The router is powered by micro-USB and connects directly to a wall socket or laptop. Installation is a breeze and the portability is great with this device weighing just 7.2 ounces.
 

| TP-Link N300 TL-WR802N – PROS | TP-Link N300 TL-WR802N – CONS |
| --- | --- |
| • Easy installation. | • Micro-USB power and Ethernet ports are on different sides of the router. |
| • Weighs 7.2 ounces. | • Micro-USB port strangely recessed inside the unit. |
 Amazon Customer Reviews:
488
Average Review Rating:
4.2 out of 5 Stars
Check Price >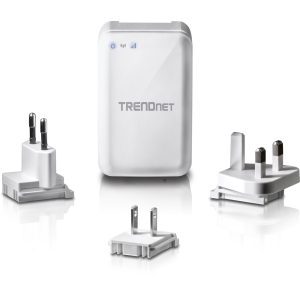 TRENDnet's TEW-817DTR features onboard encryption with speeds of up to 433Mbps over 802.11ac and 300Mbps on 802.11n. This router is easy to set up giving you the ability to stream videos, photos and music in minutes. The toggle switch can quickly shift the TEW-817DTR from router mode to WISP/AP/Repeater mode. TRENDnet also offer a three-year warranty and unlimited 24/7 technical support.
 

| TRENDnet AC750 TEW-817DTR – PROS | TRENDnet AC750 TEW-817DTR – CONS |
| --- | --- |
| • 24/7 technical support. | • No USB port. |
| • Toggle switch between router and repeater mode. | • Reconfiguration required every time you change location. |
 Amazon Customer Reviews:
45
Average Review Rating:
4.1 out of 5 Stars
Check Price >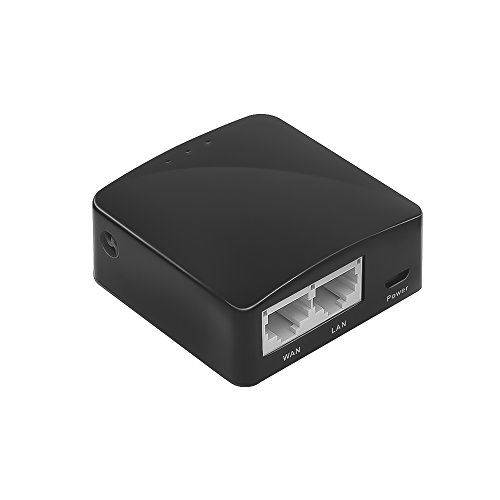 The Mini Travel Router can reach 300 mb/s and features an internal 128 MB of RAM. You can expand its capabilities by side loading functionality to support devices such as webcams and USB disks. For $20 extra, you can add an external antenna for wider coverage and a more stable network.
 

| GL.iNet GL-AR300M – PROS | GL.iNet GL-AR300M – CONS |
| --- | --- |
| • 128MB of internal RAM. | • May require frequent resetting. |
| • Ability to side load functionality. | • IT knowledge required to use to full potential. |
 Amazon Customer Reviews:
79
Average Review Rating:
4.1 out of 5 Stars
Check Price >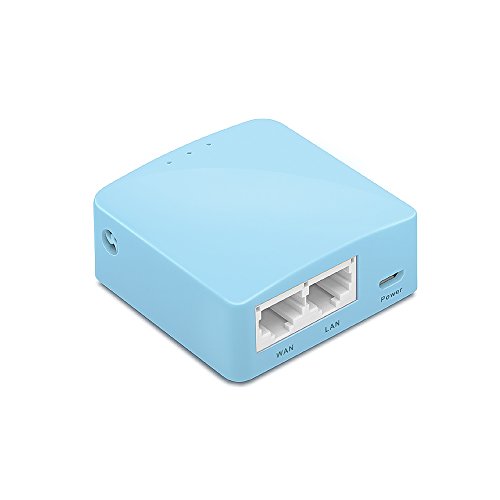 The GL-MT300A can be powered by any laptop USB, power bank or 5V DC adapter. This device can be used to convert a wired network to a private wireless connection and also features 128MB of RAM as well as 16GB of onboard storage with the ability to insert a microSD card for even more storage. The MT300A can support multiple connections with its two Ethernet ports.
 

| GL.iNet GL-MT300A – PROS | GL.iNet GL-MT300A – CONS |
| --- | --- |
| • MicroSD card slot. | • No 5GHz channel. |
| • Two Ethernet ports. | • Sloppy UI. |
 Amazon Customer Reviews:
44
Average Review Rating:
4 out of 5 Stars
Check Price >
Top Travel Wireless Routers – Buyers Guide
Before you commit to purchasing a travel router, check out our top travel wireless routers buyers guide below for all the need-to-know information on these products, and how to find the one that best suits you. There are a number of different factors that we advise keeping in mind when selecting a new travel router. Briefly outlined below, we've taken out all of the unnecessary tech-talk, while retaining all of the important information that you need to take into account if you're going to make an informed decision. Remember, not all travel routers are created equal, and some are better at particular tasks than others. Our advice? Know what you want from your router, and go from there.
Budget
Money doesn't grow on trees, and don't we all know it. Therefore, you should want to save as much of it as you can. The trick to budgeting is to find that balance between quality, and affordability. Wanting the best of the best for the lowest price is unrealistic, however you need to be able to spot when the price is just a little too high for what you're getting. We recommend taking the time to draw up a brief budget based on what you're comfortable with spending, allowing for a little wiggle-room, if the perfect router comes along for say, $20 over budget. Above, we've included what we believe to be products that achieve this balance excellently, being both affordable, and capable of providing a high quality performance.
Coverage / Range
The whole purpose of a travel router is to provide you with decent internet connection on the go. Therefore, getting a travel router with a decent coverage area is absolutely essential, especially if need it to work for multiple people. If your travel router's range isn't great, and you need it to work for your whole team, you don't want to have everyone crowded around. To put it simply, the bigger the coverage area, the better, as you can never have a coverage area that is too large.
Bandwidth / Speed
Similar to the range of a router, it goes without saying that you're going to want the highest speed possible. After all, the ability to simply establish a WiFi connection is far from the main goal of any router. We've all suffered through painfully slow connections at some stage in our online history, and so we all know the sheer frustration those spiralling buffering rings bring. Therefore, the importance of a high quality connection needs no explaining.
Size / Design
The size and design of your router refers to both the portability due to its actual size, and the aesthetic appeal of the casing, port location, etc. Ideally, from a travel router, you want a compact and sturdy construction. Obviously these routers are going to be banged around considerably more than a home router, and so you need to make sure that your travel router can stand against a little bit of friction. Additionally, if it can be afforded, you may want a router that has an aesthetically pleasing appearance, as there are some routers on the market that have some pretty interesting exterior designs.
Battery Life
Battery life is arguably the most important aspect of a travel router. When battery life is lacking, operation of your travel router is seriously inhibited. This is because the purpose of a travel router is to provide you with internet in locations where a regular router would not be suitable i.e. where there are no power sockets readily available. Therefore, if your travel router has little battery life, it isn't likely that you'll be able to re-charge it when it dies.
Ports
You're going to want USB and SD ports, ideally. These offer great file transfer capabilities and media streaming, considerably enhancing the user experience.
Security
Make sure that your travel router benefits from the latest in security features if you plan on using it while working with important documents and data. Additionally, some travel routers are able to establish a secure private from an existing Wi-Fi network, which is an essential feature if you find that you stay in hotels a lot.
User-friendliness
This one is quite simple. You want the device to work without having to read through an entire textbook of a user manual. The best routers are the ones with the fewest buttons, the ones that you just set-up, and they go.
Additional Features
While these are not exactly the most important aspects of a travel router, additional features included with some products can make quite a difference. For example, there are several travel routers on the market that also function as power banks for re-charging devices on-the-go when there are no power sockets available. Power banks are quite popular stand-alone products, so the integration of this feature into a routers design makes these products incredibly convenient to use.
Summary
Revise the information in our buyers guide thoroughly and then look at our product reviews at the beginning of this post, so that you'll be looking at the best product on the market from a much more informed perspective. This will make it easy for you to find the product that is best suited to cater for your router needs. This way you will save yourself innumerable hours of browsing through sub-par products, which we have eliminated from our product list. With that, we wish you the best of luck finding the right router, and happy browsing!